Search found 9 matches
Search found 9 matches • Page 1 of 1
by Megumi@CS

May 14th, '08, 23:43
Forum: Japanese Actors & Actresses
Topic: [poll] Cute Japanese Guys
Replies: 1025
Views: 606475
wttexhale wrote:hello

any shingo katori fans out there or smap fans??
Yeah, here's one!
Shingo Katori of SMAP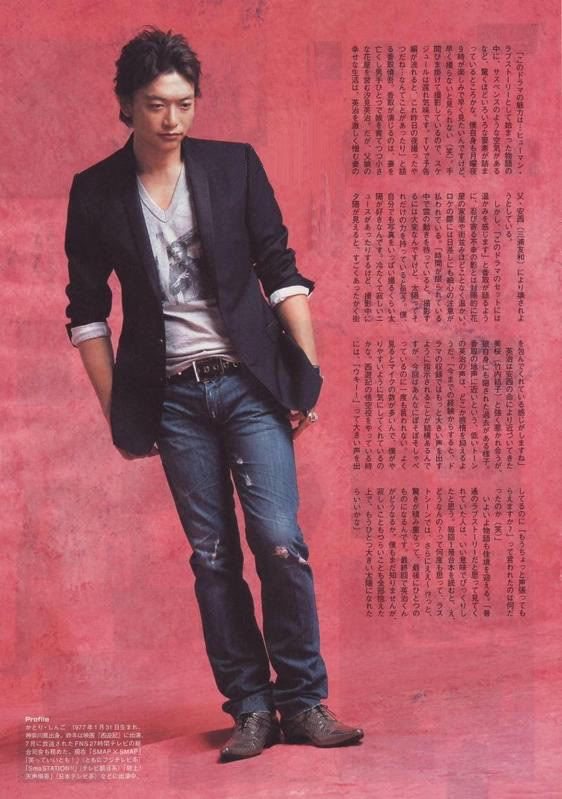 by Megumi@CS

Apr 4th, '08, 15:15
Forum: JDrama Discussions
Replies: 56
Views: 31164
Does anyone know if this is being picked up for subs? :lol I'm looking forward to this show. Tsuyopon gets bullied all the time by SMAP (in a fun way) and his reactions are always priceless and hilarious. I think this will be a good adaption. I like the Korean version too. This is the 1st I've heard...
by Megumi@CS

Feb 19th, '08, 12:40
Forum: Tech Discussion
Replies: 537
Views: 172889
It's not just Canada that's having the problem. I live in the northeast of the US and I can't get on either and haven't been able to for months. I tried your suggestion though and am at the site but don't think I can connect.....
by Megumi@CS

Jan 21st, '08, 05:15
Forum: JDrama Discussions
Replies: 53
Views: 22396
This was hilarious! I just finished watching it and from the 1st scene I was laughing so hard.
I didn't expect for it to be this funny. I can't believe it hasn't been picked up for subbing.
If the rest of the show is anything like the first episode, it should be a big hit!
by Megumi@CS

Sep 29th, '07, 14:28
Replies: 137
Views: 20213
Yes, Jackass is the same kind of show. I know ppl who really like these kinds of show. I do! It's not because I like to see ppl get hurt but its all to make someone else laugh, not cringe. Thanks Noale. It's nice to hear from a Japanese person 1st hand on their culture. Sorry to assume you'd only wa...
by Megumi@CS

Sep 28th, '07, 14:40
Replies: 137
Views: 20213
BTW, most Japanese people can read English so just write down if you can't say it. But I advise that you learn some of their language because when in Rome.... ...do as Romans...exactly. Japan and Japanese people are not just another foreign tourist country(that goes for all countries). they exist j...
by Megumi@CS

Sep 28th, '07, 01:20
Replies: 137
Views: 20213
I went to Japan alone for 3 weeks last September and I must say I had the best time. The people were kind, polite, and very helpful. The older and younger people were very nice to me. I went everywhere and got the same treatment everywhere. Maybe it's because I was nice, kind, and polite to them. Th...
by Megumi@CS

Sep 13th, '07, 02:10
Forum: JDrama Discussions
Topic: [Discussion] Love Generation
Replies: 45
Views: 27718
I replied on the other forum but another one of my favorite scenes is when they are in the hot springs and the guy comes over and Teppei has to go under water!
Search found 9 matches • Page 1 of 1