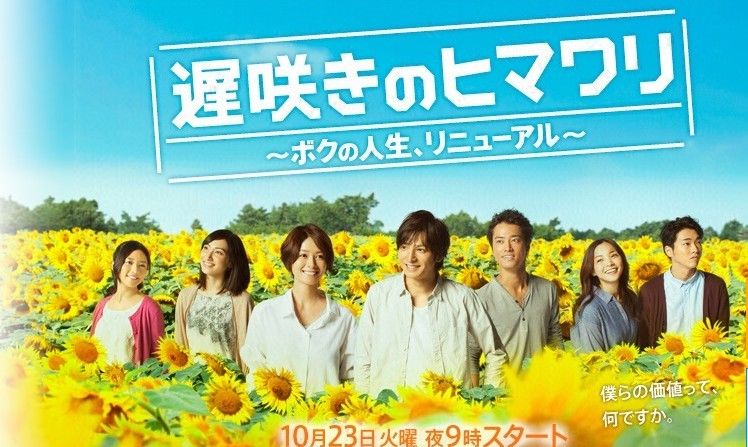 Cast: Ikuta Toma, Maki Yoko, Kiritani Kenta, Kashi Yu, Emoto Tasuku, Kimura Fumino, Kuninaka Ryoko
The title means "late-blooming sunflower".
Script written by Hashibe Atsuko who has written Brothers, Emergency Room 24hrs, BokuMichi series, Around 40, Freeter Ie wo Kau.
This drama has surpassed my expectation!
It has a solid story, solid characters, plus the beautiful scenery of Shimanto River, completed by an awesome themesong, by Mr. Children, "Jotoku"!
Usually stories takes place in a little town is slow-pace and draggy for me, but it's not the case for this drama. Time went by pretty fast watching this drama. Most probably because I like the male lead and female lead alot. Somehow, they're very realistic, to me.
Not to mention, somehow I just love listening to Japanese regional dialect. Still not sure what dialect they're speaking in... it sound a bit similar with Izumo-ben, but it must be different.
My favorite scenes:
1. Kahori (Maki Yoko) and Ayaka (Kashi Yu)'s argument on how things done in Shimanto hospital with hospitals in Tokyo are different. What I like from this scene, is I can't side either of them, both of them has good points.
2. The ending scene, Jotaro (Ikuta) and Kahori in the Shimanto river... everything's just lovely! I keep repeating it over and over. But basically I love all Jotaro-Kahori scenes
They're the -bickering partners-turn buddies-turn romantic- type of couple
Episode 1 focused heavily on Jotaro and Kahori... I can't wait to see more focus on the supporting characters, they must have their own interesting stories too!
The opening theme sung by the 7 main cast is cute!
The 7 people, 4 girls, 3 guys, reminds me of "Wakamono Subete", 90s classic drama, starring Kimura Takuya, Takeda Shinji, Fukatsu Eri (not to mention the themesong sung by Mr. Children too)... and also "Tentai Kansoku" starring Ito Hideaki, Sakaguchi Kenji, Koyuki, about 7 bestfriends.
But then again, these 7 people in "Osozaki" aren't even friends yet in Ep1. I wonder, if 7 of them will become bestfriends in the end?