Thought i'd start a thread for Horikita Maki's new drama, Miss Pilot. The following drama info is from Eng subber,
nyababan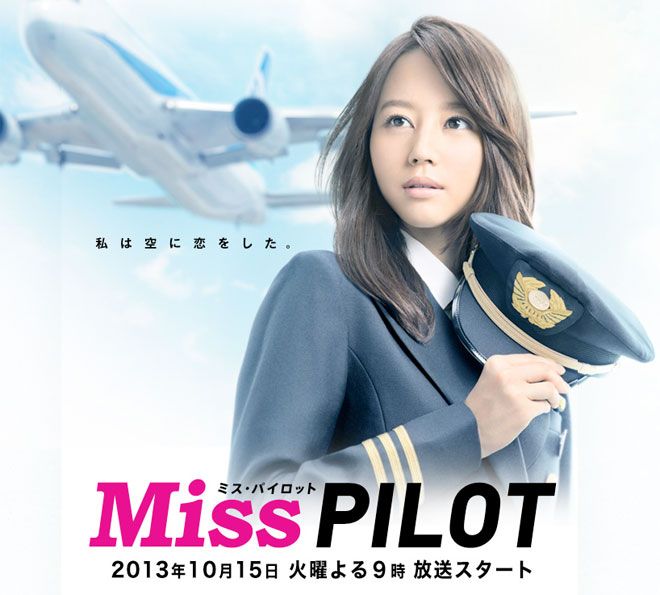 Title: ミス・パイロット - 私は空に恋をした。
English title: Miss Pilot - I fell in love with the sky.
Broadcast start: 2013-Oct-15
Broadcast end:
Network: Fuji TV
Genre: Drama
Official Website
English DramaWiki
Japanese Wikipedia
Synopsis
Tezuka Haru has been desperately hunting for a job, but nothing seems to come about. Without thinking about the consequences, she takes and barely passes the necessary exam to enter the world of aviation. From then on, she begins to walk the path towards becoming a female pilot. Of course she struggles a lot, especially since the training is more severe than she expected before taking the exam. She bonds with her fellow cadets, has to deal with some very strict teachers, and meets various people while going through the pilot training.
DramaWiki
(From DramaWiki)
Cast
Pilot Cadets Group A
Horikita Maki
as Tezuka Haru
Aibu Saki
as Oda Chisato
Mamiya Shotaro
as Kishii Taiji
Koyanagi Yu
as Kotori Sho
Fujii Ryousei
as Yamada Kazuo
Shonozaki Ken
as Moroboshi Maya
Training Center
Saito Takumi
as Kunikida Konosuke
Iwaki Koichi
as Shinozaki Kazutoyo
Ground Staff
Sakuraba Nanami
as Abeno Suzu
Nanao
as Suzuki Rinko
Others
Ishikura Saburo
as Tezuka Shigeo
Negishi Toshie
as Tezuka Yoshimi
Fujisawa Ema
as Morohoshi Maya
Ending Song
Artist:
kaho
Song name:
every hero
Credits
- Credit goes to
furransu
for providing the 480p raw files.
here
- Credit goes to
micehell
for making the 576p files available on d-addicts.
here
- Credit goes to
micehell
for making the 720p files available on d-addicts.
here
Eng Subs
http://www.d-addicts.com/forum/viewtopic_141764.htm
by
nyababan