NHK's 54th Taiga Drama
Hana Moyu

The Story
The Taiga Drama 'Hana Moyu' (lit.
Burning Flowe
r) is following the life of Fumi, the fourth daughter born into the Sugi Clan. Her older brother Yoshida Shoin, a teacher and philosopher, paved the way for the Meiji Restoration by educating in his small Shoka Sonjuku (lit.
Academy under the Pine Tree
) many remarkable Ishin Shishi, like Itou Hirobumi, Yoshida Toshimaro, Takasugi Shinsaku and Kusaka Genzui. The series pictures the vigorous images of the youths who inherited the will of their teacher and depicts the warm affection within the Sugi family.
The Cast
Sugi Clan
Sugi Fumi: Inoue Mao (as child: Yamada Momoka)
Odamura Inosuke: Osawa Takao
Yoshida Shoin: Iseya Yusuke
Kusaka Genzui: Higashide Masahiro
Sugi Yurinosuke: Nagatsuka Kyozo
Sugi Taki: Dan Fumi
Tamaki Bunnoshin: Okuda Eiji
Sugi Umetaro: Harada Taizo
Sugi Hisa: Yuka (as child: Kanon)
Sugi Toshisaburo: Yamada Eru
Sugi Kame: Kubota Maki
Students of Shoka Sonjuku
Takasugi Shinsaku: Kora Kengo
Yoshida Toshimaro: Seto Koji
Itou Hirobumi: Gekidan Hitori
Irie Kuichi: Kaname Jun
Nomura Yasushi: Ono Takuro
Maeba Issei: Sato Ryuta
Terashima Chuzaburo: Suzuki Nobuyuki
Shinagawa Yajirou: Otoo Takuma
Akane Taketo: Abe Ryohei
Matsuura Shodo: Uchino Kenta
Choshu Clan:
Mori Takachika: Kitaoji Kinya
Mori Tomiko: Matsuzaka Keiko
Sufu Masanosuke: Ishimaru Kanji
Mukunashi Tota: Naito Takashi
Mukunashi Mitsuru: Wakamura Mayumi
People of Choshu:
小田村志乃: Katase Rino
金子ツル: Asou Yumi
Takasu Hisako: Igawa Haruka
Irie Sumi: Miyazaki Karen (younger sister to the Irie brothers)
Yoshida Fusa: Kojima Fujiko (Toshimaro´s younger sister)
Higo Clan
Miyabe Teizo: Bibiru Ooki
Tokugawa Shogunate:
Ii Naosuke: Takahashi Hideki
The Staff
Original screenplay by Ohshima Satomi and Miyamura Yuko
Music: Kawai Kenji
Inscription: Kunishige Tomomi
General Production: Tsuchiya Katsuhiro and Masayo Komatsu
Producer: Horinouchi Reijiro
Directors: Watanabe Yoshio and Suenaga Hajime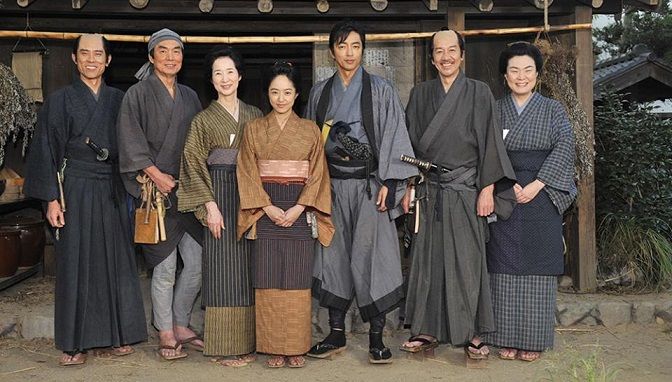 The Sugi Clan
Harada Taizo as Sugi Umetaro (Fumi´s older and Shoin´s younger brother), Nagatsuka Kyozo as Sugi Yurinosuke (Fumi´s father), Dan Fumi as Sugi Taki (Fumi´s mother), Inoue Mao as Sugi Fumi, Osawa Takao as Odamura Inosuke (Fumi´s second husband), Okuda Eiji as Tamaki Bunnoshin and Kubota Maki as Sugi Kame.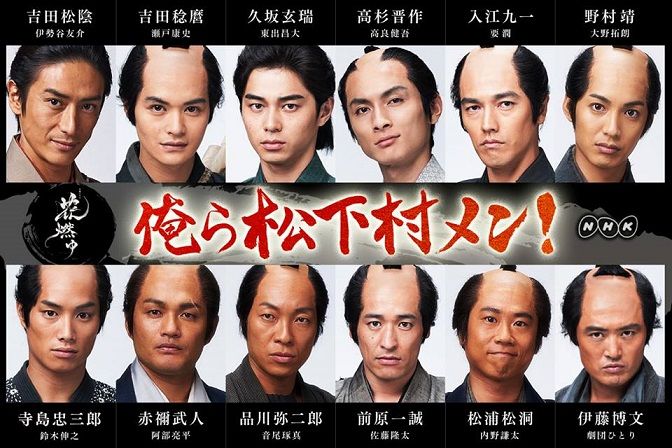 The Shoka Sonjuku
Iseya Yusuke as Yoshida Shoin, Seto Koji as Yoshida Toshimaro (Shoin and Toshimaro were not related by blood), Higashide Masahiro as Kusaka Genzui, Kora Kengo as Takasugi Shinsaku, Kaname Jun as Irie Kuichi, Ono Takuro as Nomura Yasushi (Kuichi´s younger brother), Suzuki Nobuyuki as Terashima Chuzaburo, Abe Ryohei as Akane Taketo, Otoo Takuma as Shinagawa Yajirou, Sato Ryuta as Maeba Issei, Uchino Kenta as Matsuura Shodo and Gekidan Hitori as Itou Hirobumi
Official Website