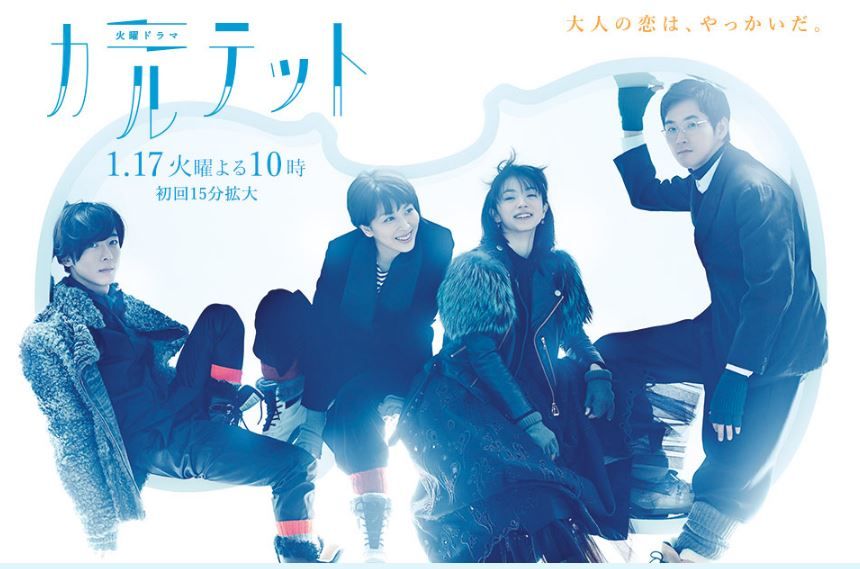 Official Website:
http://www.tbs.co.jp/quartet2017/
Broadcast: TBS, Tuesdays 10pm
Main Cast
Matsu Takako
Mitsushima Hikari
Takahashi Issei
Matsuda Ryuhei
Scriptwriter
Sakamoto Yuji (Saikou no Rikon, Sore demo Ikite yuku, Mother)
Best winter drama for me, so far!
Feel like this is Saikou no Rikon's "sister drama" LOL. The main four characters and the loooong conversation scenes. Awesome!! I love that this one has a mix of mystery suspense and comedy. Loving all the cast. This is definitely a great TV comeback for Matsu Takako! And shoot, I never realized Takahashi Issei is that hot
I love all the characters, but I feel like they're just modifications/reincarnations of Saikou no Rikon's characters? LOL
Mitsuo -> Iemori (Takahashi) -> mendokusai, pointing at every little detail
Yuka -> Suzume (Mitsushima) -> carefree, happy-go-lucky
Ryo -> Beppu (Matsuda) -> quiet
Akari -> Maki (Matsu) -> looking soft and gentle in the outside, but hiding dark personality inside
Even so, I still love them. Especially Iemori and Suzume, running around the house like 10 year-olds haha!
And the ending song video, kakkoii~!!
A Shiina Ringo song with Matsu Takako's voice... i'm deaaadd. Will they promote the song in Music Station, I wonder? *hopeful* So Matsu, Mitsushima, Takahashi sings... but I never heard that Matsuda can sing? Though I cannot hear his voice in the song at all, lol
Btw, there are many Japanese audience who criticized their strings performance looked terribly faked and far below Nodame Cantabile's cast performance. Any musician here can confirm? Was their quartet performance really that bad in this drama? I mean, it looked totally fake? I thought they had training with real violinists.