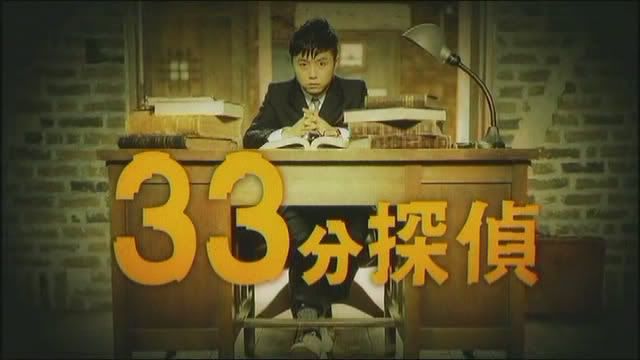 Title: 33分探偵
Title (romaji): 33pun Tantei
Title (English): 33 Minute Detective
Format: Renzoku
Genre: Comedy, mystery
Episodes: TBA
Broadcast network: Fuji TV
Broadcast period: 2008-Aug-02
Air time: Saturday 23:10
Theme song: Secret Code by KinKi Kids
Story
Each episode's mystery is solved within that short time span, but unlike typical detective shows, this comedy features a slow-witted sleuth named Rokuro Kurama. While viewers will be able to identify the criminal right away, Kurama constantly comes up with incorrect theories, leading him to always accuse the wrong person. The show's name comes from its time slot (Saturday nights at 11:10pm), which runs a total of 33 minutes after commercial time is subtracted.
Cast
Domoto Tsuyoshi as Kurama Rokuro
Mizukawa Asami as Muto Rikako
Takahashi Katsumi as Police Inspector Otawara
* Totsugi Shigeyuki as Detective Motegi
Sato Jiro as the judgment official
Nonami Maho as Ai (assistant to the judgment official)
Kojima Yoshio (小島よしお) as the informer
Sub Group
CHLOE Fansubs
Soft Subs
I looked on the fansub map and I didn't see anyone willing to do this, since I like this show a lot, if the MQ is released here, I'll do it on the side from my group.
... So, who likes this?!