Starring:
Shun Oguri, Mizushima Hiro, Yoshitaka Yuriko..etc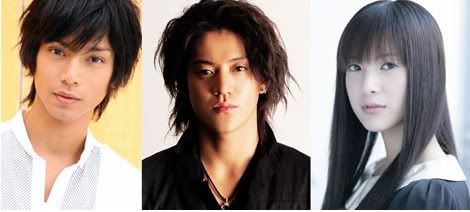 News:
Fuji TV has unveiled its next Monday night drama series. Tentatively titled "Tokyo DOGS ~Saiaku de Saikou no Partner~," the show will feature popular actors Shun Oguri (26) and Hiro Mizushima (25) teaming up as police detectives.
"Tokyo DOGS" will be the first true police drama to air in Fuji TV's Monday 9:00pm time slot. This is also the first time for either actor to be cast in that time slot.
Oguri has the starring role as Sou Takakura, who witnessed his father's murder at a young age. Pledging to catch the killer, he grows up to become an elite cop in New York City, where the criminal lives. His character is cool-headed and disciplined, yet adapts well. Because of major drug dealings, he gets sent to Tokyo to conduct a joint investigation with the Japanese police. There, he gets teamed up with a detective from a special investigative division (Mizushima).
Mizushima's character is a hot-blooded fighting expert due to his earlier days as a delinquent, but he makes a strong impression with his stylish appearance and is always interested in going on group dates. His personality, interests, and investigation methods are completely mismatched with Oguri's, but the two somehow work together to crack the case they've been given.
Cast in the heroine role is Yuriko Yoshitaka (21), playing a mysterious woman who holds the key to the case, though she has lost part of her memory due to trauma. Her relationship to the two actors will also be one of the drama's key points.
"Tokyo DOGS" will premiere this October.
Big news for all Oguri Shun fans, the 26 years-old actor is going to have the starring role in Fuji TV's next Monday-09pm dorama "Tokyo DOGS ~Worst and Best Partners~" that's starting in October. It's the first time ever that Fuji TV is going to air an original police dorama in their most prestigious time slot for doramas.Oguri will play an elite cop from the New York Police Department, but as the title already suggest, he won't be working alone. His partner who experienced a sudden rise from being a delinquent to being a detective at the police headquarter is going to be played by Mizushima Hiro (25), yet another very popular young ikemen actor. Fuji TV is already counting with quite some high ratings and there is no reason why they shouldn't.
Let's look at some more detailed infos about their roles. Oguri's role is an elite detective at the NY Police Department who originally has been working in the military. At work he seems to be calm and serious, but that doesn't mean that he can't adapt to all kind of situations. He is coming to Japan and (the setting is New York, according to Fuji TV) will work together with the Japanese Metropolitan Police Department in a joint operation in order to bust some large-scale drug dealings that are happening at the moment. He is going to work together with a detective from the Special Investigation Division, played by Mizushima.
Mizushima is a martial expert who used to be a delinquent and in a biker gang himself. He has a really hot-blooded character with a lot of hobbies that even intensify his cool and strong image, an unusual new role for Mizushima. Those 2 different personalities will have no other choice but to work as partners which is going to cause some really interesting negotiations, not to mention that great "buddy vibe" that is hopefully going to attract a lot of viewers.
Oguri himself is already quite excited about this dorama, "With such amazing coactors, I can't help but being excited right from the beginning." Mizushima too, "It's my first Monday-09pm dorama and I can't wait to show a totally new side of me."
The regular readers of this site probably already wonder why I posted this here, but don't worry, there IS going to be space enough for a heroine role. No other than the quickly rising Yoshitaka Yuriko (21) is going to play a very important key figure to all the events taking place in the dorama. Yoshitaka is just as excited as the other male leads. "I'm so nervous and excited that I'm shivering right now. I'd like to take advantage of this nervousness and use it as an impulse to dash forward."
A whole new face for the Monday-09pm and I couldn't be more excited about Fuji TV's change of course.
Summary of the Dorama:
Takakura So witnessed his father's murder at a young age. Pledging to catch the killer, he grows up to become an elite cop in New York City, where the criminal lives. His character is cool-headed and disciplined, yet adapts well. Because of major drug dealings, he gets sent to Tokyo to conduct a joint investigation with the Japanese police. There, he gets teamed up with, Kudo Maruo, a detective from a special investigative division. Kudo is a hot-blooded fighting expert due to his earlier days as a delinquent, but he makes a strong impression with his stylish appearance and is always interested in going on group dates. His personality, interests, and investigation methods are completely mismatched with Takakura's, but the two somehow work together to crack the case they've been given.[/b]