After watching 60 episodes and heard of the 20% rating success of this drama, I think this drama deserves a thread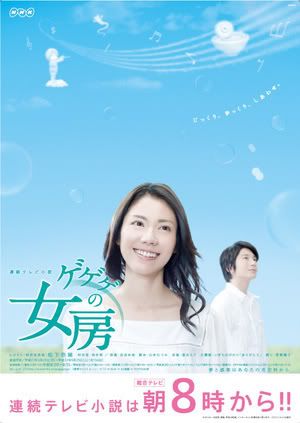 Gegege no Nyobo
(Gegege's Wife)
is NHK asadora (morning drama) with 15 mins duration for each episode, started on March 29 and is still running now. It broadcasts every Monday to Saturday on 8 AM. The drama is planned to have 156 eps in total and it will end this September.
Starring Matsushita Nao and Mukai Osamu, this family comedy drama tells the story of the popular manga author of "Gegege no Kitaro", Mizuki Shigeru, from his wife's perspective. Based on Mizuki Shigeru's wife's autobiography, the drama focuses on the true story of the married couple who lives in poverty before "Gegege no Kitaro" become popular.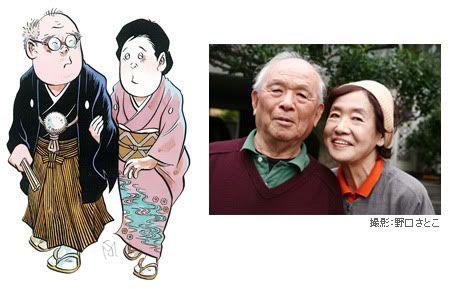 The rating started with the worst rating record in NHK asadora's rating history of 14.8%.
But after Matsushita Nao appeared starting Episode 7 (her character was played by a child actress for Ep1-6), the rating gets better slowly. When Mukai Osamu appeared in Episode 13, the rating hit 18.2%. The rating gotten very stable around 16-18% after that, until it hit 20.4% on Episode 66. And now the rating average gets quite stable around 18-19%, esp. starting July, when the story starts to tell how the married couple start to have the chance in getting out of the poverty life.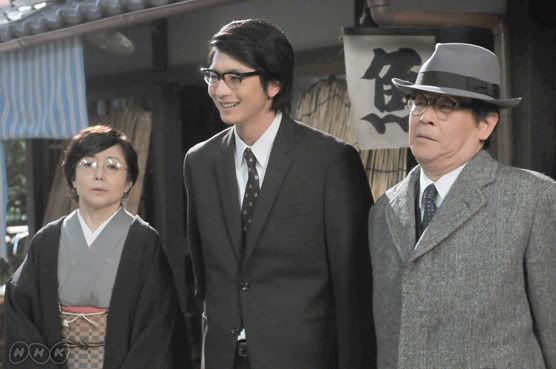 The drama sets in the 1960s. I find the story got interesting when the omiai (arranged marriage) topic started. When Iida Fumie (Matsushita Nao) turned 30, her parents gets worried and set her up for an omiai with a manga author, Murai Shigeru (Mukai Osamu).
Interesting fact on Shigeru is that he lost his left arm when he was sent to the war. During the omiai, he wear a fake arm although he hates it.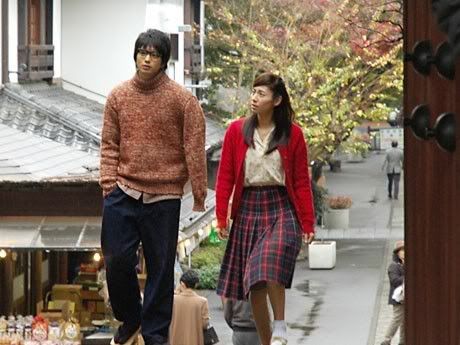 Shigeru's mother was in a haste and expected Fumie to immediately answer so that they can held the wedding in the next few days. In just 5 days after the omiai, the wedding ceremony was held. And then Fumie moved to Tokyo, where Shigeru lives. Both Shigeru and Fumie were from Tottori prefecture though, so they speak in Tottori dialect in this drama.
First day in Tokyo, Fumie was stunned by the metropolitan city. But then she was shocked to see how poor Shigeru's life is, not to mention their house is built next to a graveyard. Shigeru himself seem to be a person who cares nothing except his manga's deadline. The first few days in Tokyo, Fumie almost never get to talk to Shigeru at all, because he kept isolating himself inside his working room, working on his manga. Shigeru acts very "ojisan"-like most of the time. He almost doesn't care abt anything except manga. If his mother didn't pester him, he might not get married at all. Shigeru loves ghost stories since he was a child. Fumie was quite surprised when she started knowing her husband's personality. But then Fumie was touched with Shigeru's hard effort whenever he is drawing. And she is also touched with Shigeru's kindness from time to time, although he seem to be ignorant of her most of the time.
I find this Murai Shigeru character is very "interestingly" weird yet very real. His character is suppose to be 40 years old. For the movie version, Kudo Kankuro plays this role. Mukai Osamu might seem too young for the role, but I'm surprised he acted this "ossan" role very well! I would dub this as Mukai's best acting performance so far. His acting was just fairly good in the beginning, but it got better and more natural by episodes. He recited the lines in Tottori dialect more naturally as well.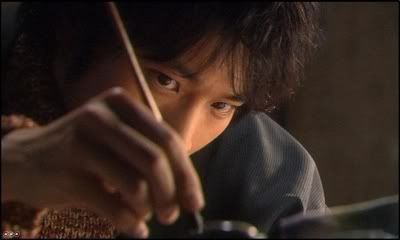 I find Matsushita Nao always play the same type of role, and I have to say Iida Fumie is the same kind as her previous roles. But she acted the role fairly well, and she has good "husband and wife" chemistry with Mukai.
The supporting roles are excellent, imho!! Ohsugi Ren as Fumie's father was superb, Shigeru's parents are so funny, Shigeru's older brother who always bring his family to Shigeru's house to borrow his bathroom was also very interesting.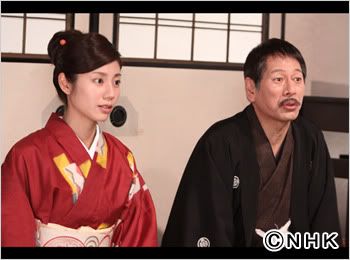 The whole story of Fumie-Shigeru's hardships and their poverty life, depicted in comedy touch. The lifestyle in the 1960s. The hard life of a manga author before success, and how his wife tries to deal with it. Touching family moments. Hillarious moments. This drama is really made of win!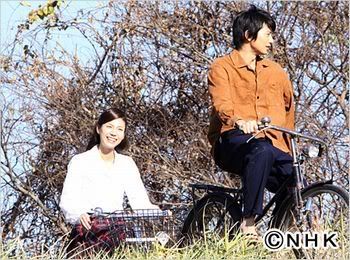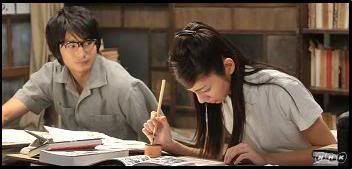 From the Torrents threads, seem like someone is planning to sub this, but maybe he has not started yet.
Magazine interview: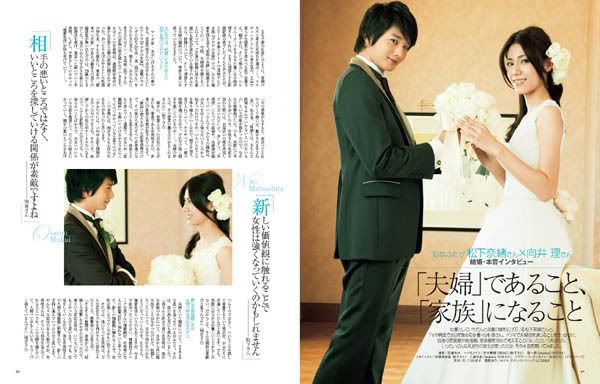 Mukai Osamu (Feb 7th) and Matsushita Nao (Feb 8th) celebrated their birthday together on the NHK filming studio.