This kdrama seems really interesting, I am very surprised d-addicts hasn't talked nor uploaded this sorta drama. I am very interested in watching it...but the problem is i can't find any episodes past 8. I'm sad...
anyone else find this drama amazing?
---------------------------------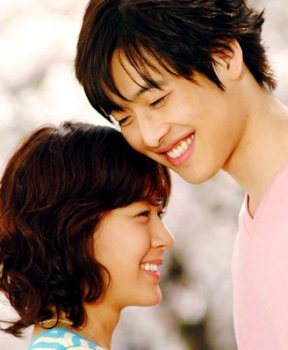 Year Published:
2002
Genre :
Drama
Total part/eps:
16
Director:
Lee Dae-Young
Casting:
Kim Je-Won, Kim Ha-Neul
Language:
Korean
Summary/Comment:
Choi Kwan-Woo (Kim Jae-Won), a vivacious and noble young man, and Kim Chae-Won (Kim Ha-Neul), a free-spirited teacher, serendipitously meet at a blossom festival and hopelessly fall in love amid innocent lies and social taboos.
April 1999, Kwan Woo met Chae Won at Jin-Hae Cherry blossom festival and fell in love with her at first sight. Concealing his age (high school student), he had a date with Chae Won. But with a sudden death of his father, they were separated without knowing each other's phone number or address, and his affection for Chae Won grows.
After his father died, his family moved to Seoul so he was transferred to a high school in Seoul and he met Che Won and shockingly she was a teacher of that school. Even though it is forbidden love (between student and teacher), Kwan-Woo's love for Che Won keeps growing and Chae Won also could not help being in love with him...