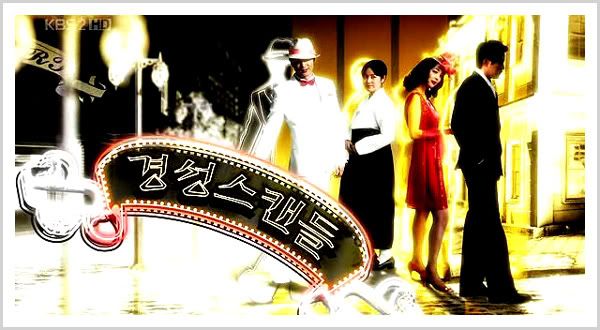 Title
: 경성스캔들 / Capital Scandal
Also known as
: Scandal in the Capital / Scandal in Old Seoul / Modern Romance
Episodes
: 16
Genre
: Fusion drama, Romance
Based on the novel "Sad Story of the Capital (경성애사, 京城哀史)" by Lee Sun Mi (이선미), the same author as Coffee Prince, this drama portrays a love story during the 1930s during the independence movement.
Na Yu Kyung (
Han Ji Min
) is a book store owner and a lobbyist, as she is a purist of Korean culture. Sun Woo Wan (
Kang Ji Hwan
), the youngest son of a rich and famous family, is involved in the independence movement with his magazine that records scandals and spreads lewd content to the public. Yu Kyung and Woo Wan meet under strange circumstances, which sets both of them under disagreeable terms with one another. Lee Soo Hyun (
Ryu Jin
) is a Josenjing who rises amongst the ranks of the government; his connection with Woo Wan goes way back into the past as childhood friends. Then there's Cha Song Joo (
Han Go Eun
), a famous courtesan of the time who is acquainted with Woo Wan and secretly admires Soo Hyun. Through scandal, bets, and mere coincidences, the four become entangled in a great development of romance and suspense.
Links
:
DramaWiki
Official Website
Subtitle Thread
--
Personally, I find this drama to be one of the best I've watched. It is beyond amusing and colorful yet it still manages to hold a serious touch to it at the same time.