WITHS2 is SUBBING TWSSG READ THIER WIKI HERE
SPECIAL WARNING:
WITH S2 is asking full cooperation to please

DO NOT

hardsub or stream as we have gotten a special warning regarding this series, and indeed taking a huge risk in subbing it.
Again, DO NOT hardsub and/or stream using our English subtitles as we would be forced to halt and terminate the project to protect our team.


KEEP FANSUBBING ALIVE. FANSUBS ARE NOT FOR COMMERCIAL USE!


Thank you for the cooperation.
SUBTITLES ( ENGLISH BY WITHS2 )
http://www.d-addicts.com/forum/viewtopic_53290.htm
Episodes :
http://clubbox.co.kr/WITHS2CB
or
D-ADDICTS TORRENTS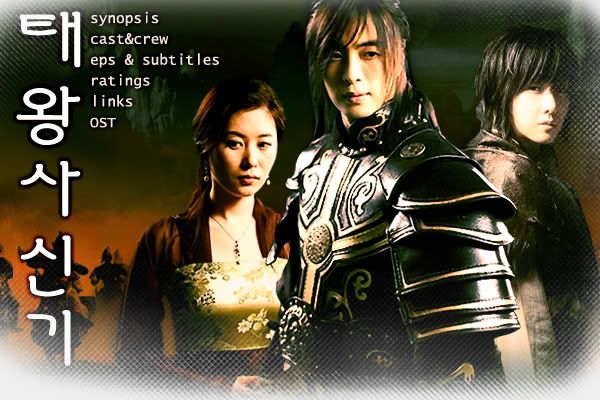 DRAMA WIKI
* Title: 태왕사신기 / Tae Wang Sa Shin Gi
* Also known as: The Legend / The Story of the First King's Four Gods
* Genre: Period Drama
* Episodes: 24
* Broadcast network: MBC
* Broadcast period: 2007-Sept-10 to 2007-Nov
* Air time: Wednesdays & Thursdays 21:55 (9:55 Korean time)
* Theme song: Love Song for a Thousand Years by DBSK (Dong Bang Shin Gi)
BROADCASTING SCHEDULE
10 September, Special program consisting of making, interview of actors etc.
11 to 13 September, 1 episode everyday, episodes 1 to 3
19 September, every Wednesday and Thursday 21:55-, 2episodes every week
Links Out
http://www.imbc.com/broad/tv/drama/legend/index.html
http://www.soompi.com/forums/index.php?showtopic=97747
http://www.taesagi.com/
SYNOPSIS
Who was Dam-deok (Gwang Gae Toh Dae Wang)?: He was the 19th king of Goguryeo (lasted from 37 B.C. to 668 A.D.). During the time of Dam-deok, Goguryeo was the most powerful nation in East Asia (yes, even the Chinese dynasty couldn't defeat Goguryeo). At age 11, he was made the Crown Prince and became King when he was 16. In 396, he attacked Baekje (a nation Southwest of Goguryeo) and took over the northern area above the Han River. He defeated the many invasions made by the Yeon Dynasty (China) after 400 A.D. During his reign, the number of castles he took over numbered in the hundreds and villages numbered in the thousands. However, he died at an untimely age of 39.
Storyline: Jumong, the founder of Goguryeo, establish Goguryeo with his Four Gods: Cheong-ryong (Blue Dragon), Baek-ho (White Tiger), Joo-jak (Phoenix), Hyeon-mu (symbolized as a turtle). The Japanese may know them as Seiryuu, Byakko, Suzaku, and Genbu. Jumong marries Soseono, who had a big part in the founding of Goguryeo. They have two sons, Onjo and Biryu. When the son of Jumong's first wife came to Goguryeo in search of his father, and is named Crown Prince, Soseono takes her sons, Onjo and Biryu, South and establishs Baekje. This is how Baekje and Goguryeo were known as "brother countries".
As time passed, the Four Gods secluded themselves from society and watched as Baekje and Goguryeo's relationship worsened (worsened more mainly because Goguryeo's king was killed in a battle between Baekje and Goguryeo).
One day, Ju-ahn, "Hyeon-mu" of the Four Gods, sees two stars sour up into the sky. Since one came from the palace in Baekje, it predicted the birth of "Su", later known as King Ah-shin. The other star came from Goguryeo, prophesizing the birth of Dam-deok, later known as Gwang Gae Toh Dae Wang.
Realizing that his new master has come to the world, Ju-ahn awaits in the vast Manchuria with a young girl, Sujini, to see which of the two will be his master. Sujini was picked up as an orphan by Ju-ahn and considers Ju-ahn as her father.
Therefore, the story is on the Four Gods looking for their master, Gwang Gae Toh Dae Wang, who was an expert in tactics, the woman he loved (Sujini), who was also loved by the coldhearted King Ah-shin.
credit: Touya (Seifall5)
CAST INFORMATION
Credit : Dramaok ( Soompi )
Cast
Extended Cast
Gods Descriptions
thanks to liquidfir for the brief description [please don't forget to credit her smile.gif she did a wonderful job doing this.
Celestial Creatures
운사 (청룡) Woon Sa (Chong Ryong)
- 동쪽을 다스리는 구름의 수호신 Blue Dragon, Protector of the East; Cloud
Magical Items 신물 : Head of a Spear
풍백 (백호) Poong Baek (Baek Ho)
- 서쪽을 다스리는 바람의 수호신 White Tiger, Protector of the West; Wind
Magical Items 신물 : Metal
우사 (현무) Woo Sa (Hyon Mu)
- 북쪽을 다스리는 비의 수호신 Black Turtle, Protector of the North; Rain
Magical Items 신물 : A staff
새오 (주작) Sae O (Ju Jak)
- 남쪽을 다스리는 불의 수호신 Red vermilion or Phoenix, Protector of the South; Fire
*흑주작 Hek Ju Jak- 분노에 의해 폭주한 주작 Black Phoenix
. When Jujak is overwhelmed by rage, it becomes Hek Ju Jak. Very destructive.
Magical Items 신물 : Ruby Necklace

Other characters
연호개 Yon Hogae - Cousin to Damdeok. Borned on the same day and time as DamDeok. However he was not the Ju Shin king. They were best of friends until the death of Hogae's mother. Hogae's mother was a princess and she believed that her son hogae was the rightful king. She tried to poison DamDeok's father but this was discovered by DamDeok with help from Kiha. Damdeok told his aunt that if she can find the one responsible then no harm will come to her family or her son. She took the bottle of poison and committed suicide. However, before she died, she told hogae to become king and to beware of Damdeok. Hogae kept this in mind and they turned from friends to enemies. He was secretly in love with Kiha.
연가려 Yon Ga Ryo - Father to Hogae.
양왕 Yang Wang - Father to Damdeok
대장로 Dae Jang Ro - The leader of the Hwan cheon Hwe.
주무친 Ju Mu Chin - Reincarnated, human form of Baek Ho
처로 Cho Ro - Reincarnated human form of Chong Ryong
현고 Hyon Go - Reincarnated human form of Hyon Mu
닥단 Dak Dan - Female warrior.
General Kho the guard of Damdeok.
Saryang, the guy who's incharge to look for Kiha at the palace. messenger of Hwancheon Leader. [the guy whose one eye is covered with his hair]
WHERE TO WATCH
*from the soompi thread
www.cdmatv.com
and go on to the following website below ~
* http//
www.busanmbc.co.kr
*
http://www.mokpombc.co.kr
*
http://www.ulsanmbc.co.kr
also you can watch from any of these sites ~
http://www.tvxbox.com/
[just click mbc below the screen]
mms://live.imbc.com/OnAirTV [copy and paste on a new window]
mms://210.114.221.153/busanmbc_tv_onair_9541
mms://onair.usmbc.co.kr/tv
http://stream.jejumbc.com/jeju_tv
mms://dgmbc.xenoinfo.com/live
mms://211.230.150.18/kaljsdhflkajshdflkjashdasdjhfalkjdsfh
mms://61.40.7.7/TV
mms://211.117.193.99/tvgjmbc
http://210.114.220.120/masanmbctv
mms://211.171.235.142/tvs
mms://andong.pusanweb.co.kr/andonglive
mms://61.37.35.4/chmbctv
mms://VOD.tjmbc.co.kr/818becbd1b
mms://210.221.163.25/encoder-tv
mms://jinju.pusanweb.co.kr/tv
mms://VODSTR.cjmbc.co.kr/LiveTV
mms://211.223.35.241/TV
mms://live.wjmbc.co.kr/wjmbctv
Episode Ratings / Nationwide & Seoul
2007-09-11 1 20.4 (3rd) 21.6 (3rd)
2007-09-12 2 26.9 (1st) 27.7 (1st)
2007-09-13 3 26.9 (1st) 28.3 (1st)
2007-09-19 4 31.7 (1st) 33.3 (1st)
2007-09-20 5 31.5 (1st) 33.1 (1st)
2007-09-26 6 23.4 (2nd) 25.3 (1st)
2007-09-27 7 30.9 (1st) 33.0 (1st)
2007-10-10 8 25.9 (2nd) 26.4 (2nd)
2007-10-11 9 28.2 (2nd) 29.3 (1st)
2007-10-17 10 27.5 (2nd) 28.6 (1st)
2007-10-18 11 28.3 (2nd) 29.7 (1st)
2007-10-24 12 29.6 (2nd) 30.2 (1st)
2007-10-25 13 29.1 (2nd) 30.4 (1st)
2007-10-31 14 27.9 (2nd) 29.0 (1st)
2007-11-01 15 31.9 (1st) 33.2 (1st)
2007-11-07 16 30.0 (2nd) 31.0 (1st)
2007-11-08 17 30.4 (2nd) 31.9 (1st)
2007-11-14 18 - -
2007-11-15 19 - -
2007-11-21 20 - -
2007-11-22 21 - -
2007-11-28 22 - -
2007-11-29 23 - -
2007-12-05 24 - -
The Ledgend / Tae Wang Sa Shin Gi OST
* Title: The Legend Original Soundtrack
* Artist: Various
* Language: Korean
* Publisher: Universal Music (South Korea)
* Release Date: October 22, 2007
* Number of Tracks: 19
Track Listing
1. Opening
2. Sacred War
3. Damdeok's Theme (Main Theme)
4. Sujini's Theme (Loneliness)
5. Kiha's theme (Destined Meeting)
6. Destiny
7. Hwacheon Clan
8. War of the Gods
9. Damdeok's Theme (Bravery)
10. Geomeul Village
11. Attack from Enemy Force
12. Unity
13. Victory
14. Approval
15. Time Flows By
16. Unachievable Love
17. First Love
18. Sujini's Theme (Piano Solo)
19. Thousand Year Love Song - TVXQ
Download the OST
>>
http://www.megaupload.com/?d=S1KHJ6RW
Source : KST