Title : I AM SAM or 아이엠샘
Also known as: I Am Sam / I Am Teacher
Genre: Romance, Comedy
Episodes: 16
Broadcast network: KBS2
Broadcast period: 2007-Aug-06 to 2007-Oct-02 [Completely]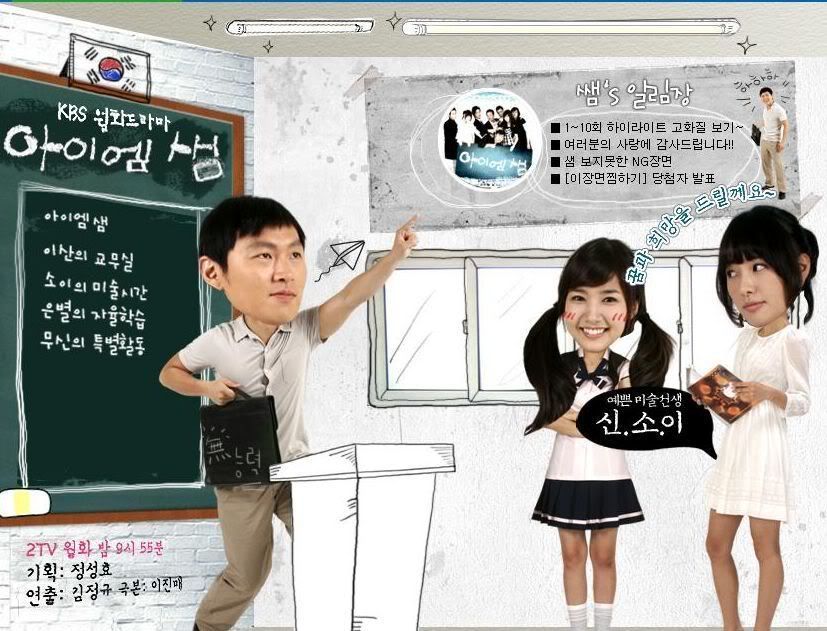 Sypnosis :
The story focuses on the conflicts between the young teachers and the problems that high school students have. Jang Yi San is a timid and incompetent classical music teacher who has to teach the only daughter of a highly dangerous mob leader. Eun Byul is the mob leader's daughter and she is also a new student at MyungMoon High but knows nothing whatsoever.





Cast

* Yang Dong Geun as Jang Yi San
* Park Min Young as Yoo Eun Byul
* T.O.P as Chae Moo Shin
* Son Tae Young as Shin So Yi

Extended Cast

* Ryan as Ji Seon Hoo
* Park Jae Jung as Kim Woo Jin (Mr. Yoo's right hand man)
* Park Chae Kyung as Min Sa Kang
* Park Joon Gyu as Yoo Jae Gon (Eun Byul's father)
* Lee Min Ho as Heo Mo Se
* Kwak Ji Min as Da Bin
* Dan Ji as Ye Bin
* Ban So Young as Hyo Bin
* Choi Jae Hwan as Han Tae Sung (Moo Shin's friend)
* Kim Yoo Bin as Kim Hee Chul
* Park Chul Ho as Kim In Seol
* Jo Hyang Ki as Hong Dae Ri (Mr. Yoo's assistant)
* Yoo Tae Woong as Go Dong Sool
* Kim Hong Sik as Park Nam Kyu
* Choi Joo Bong as Heo Duk Bae (principal / Mo Se's father)




Official Site : http://www.kbs.co.kr/drama/imsam/index.html
Wiki D-addicts : http://wiki.d-addicts.com/I%27m_Sam
Soompi forums : http://www.soompi.com/forums/index.php?showtopic=144910
Clubbox With English Subtitle : http://clubbox.co.kr/W1S3