I can't believe we don't have a topic for this drama!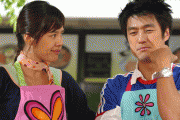 Synopsis (wikipedia):On her wedding day Kim Eun Jae is left standing at the alter by her groom, Yoo Young Hoon, for wealthy Suh Woo Kyung. Her wedding photographer, Park Moo-yeol, is a rich playboy who helps Eun-jae avoid embarrassment by pretending to be her husband. Soon after Moo-yeol's family goes bankrupt. The family home will be sold if he can't come up with money quick. Eun Jae meanwhile is convinced that if she becomes wealthy Young Hoon will come back to her.
Eun-jae and Moo-yeol decide to join forces. They move in together and invest in moneymaking schemes one after the other. Making money unfortunately isn't as easy as they had hoped. As outside forces (and Woo Kyung) line up against them, the two begin to realize that though they may be unlucky in money they are very lucky in love.
Cast:
Kim Hyun Ju as Kim Eun Jae
Ji Jin Hee as Park Moo Yeol
Kim Sung Ryung as Suh Woo Kyung
Park Gun Hyung as Yoo Young Hoon
Extended cast:
Shin Gu
Yeo Wun-Gye
Bong Tae-Gyu
Seong Ji-Ru
Jo Eun-Suk
Hong Su-Hyeon
At first I thought that acting was worse than ever but now all characters have grown on me. I especially like the old couple and their son. They are all so hilarious. Also in the beginning there were this overly idiotic expressions (not funny at all) at the end of each episode. The plot is very simple too. It's actually ridiculous. I cannot understand how can these women love such man as Young Hoon. I mean he is like a little kid. when Woo Kyung appeared and promised to buy him a house he was like "screw the wedding, I wanna that house" Then the talk between Miss. Kim and Woo Kyung "Can you buy him things he wants? I doubt... But I can, he will be happier with me" I was like... Oh please... But after couple of episodes this drama got on a nice track. I have decided that the director is good. Screenwriting is party well done too because characters have funny killer lines and they say them just on right moments. There is this touch of realism too.